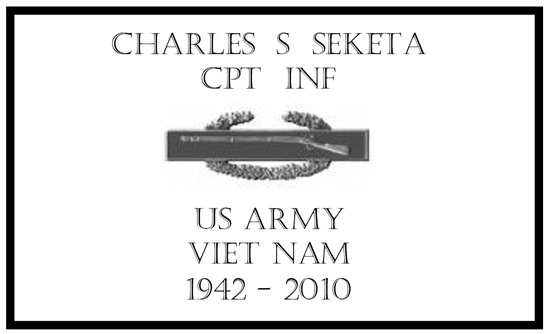 OBITUARY
Charles S. Seketa, 67, of Liverpool, passed away on Sunday at the Syracuse
VA Hospital. Born in Johnson City, he was a Vietnam Army veteran.

Surviving are his wife Cindi, a daughter, Tracey (Jeremy) Shaw, a step-son,
Philip (Denise) Braun, a granddaughter, Hope, a grandson, Daniel, a cousin,
Nicholas (Marta) Seketa, a nephew David, a niece Lisa and great nephews.

Funeral services will be 9:30 am Thursday at the Maurer Funeral Home, Liverpool
with burial to follow in the Onondaga County Veterans Memorial Cemetery.
Calling hours are 4 to 7 pm Wednesday at the funeral home, 300 Second St,
Liverpool, NY.

Contributions may be made to the Military Order of the Purple Heart.

OBITUARY NOTICE MEMORIAL SERVICES
Transcripts From The Memorial Service
PERSONAL COMMENTS presented by (LT) Charles H. Davis, II
EULOGY presented by (LT) Michael Herber